Embassy of Water
A renewed perspective on our water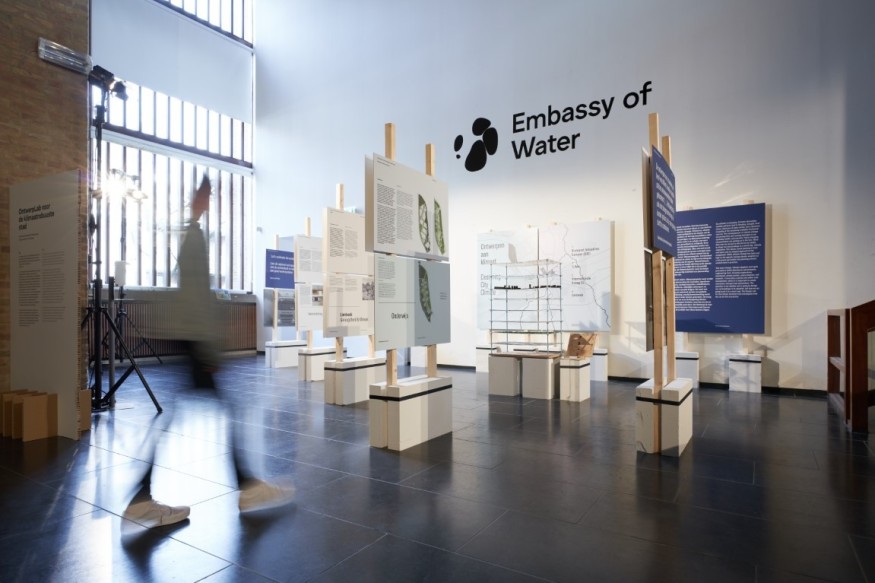 Water is essential for us. We use it for drinking, washing, and cooling off. And for the production of our food, clothing, and utensils. On average, every person uses about 4,000 liters of water per day. An unimaginable amount. We can't live without water, but we often use it thoughtlessly. We open the tap, and an endless stream of water comes out. It feels like an inexhaustible resource that is always at our disposal. Something we are naturally entitled to.
Nevertheless, we increasingly have to deal with water-related problems. Times of prolonged drought, in which lawns turn brown and streams and ponds evaporate. But also floods, when buckets of rain fall from the sky. We often see these problems separately from our actions, even though we certainly influence them. To tackle these problems, we need to change our relationship with water. That is why Anouk van der Poll founded the Embassy of Water.

The name says it all: the Embassy of Water is literally an ambassador of water. The Embassy aims to change our relationship with water and restore the natural balance in our ecosystem. To this end, the Embassy works on a project-by-project basis with designers and various organizations, such as water boards, local authorities, and housing associations. Until 2024, the Embassy of Water will focus on the future of housing construction.
About Anouk van der Poll

Anouk van der Poll is the founder and curator of the Embassy of Water. She also has a design studio, Van der Poll Office, together with her husband Marijn. Anouk is an expert on water-related problems and solutions. Besides being a designer, she is also a consultant and project leader. Anouk van der Poll graduated from the Design Academy Eindhoven in 2002. Her graduation project was the First Water Carafe. A water carafe that revitalizes water by creating a whirlpool, as you often see in streams and rivers.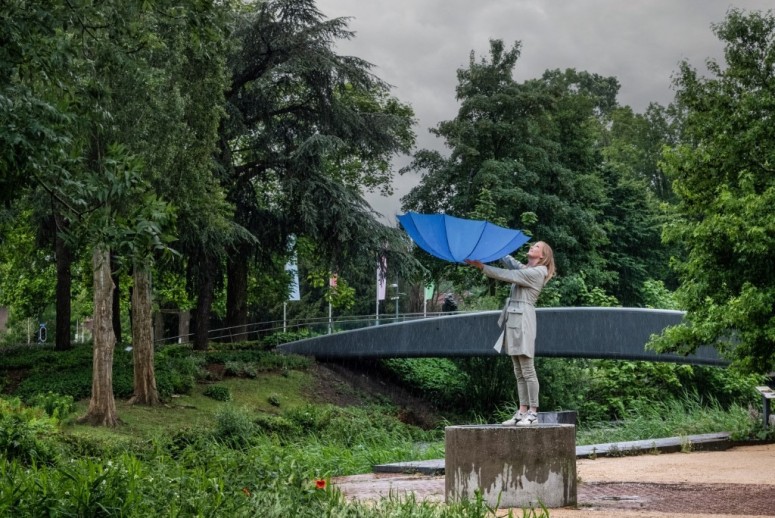 Anouk van der Poll - foto door Eddie Mol
About the project
In 2017, the Dutch Design Foundation started World Design Embassies (WDE). A project made possible by Regio Deal Brainport Eindhoven. World Design Embassies consists of eight different Embassies, each centered around a major social challenge in which the power of design can play an essential role. For example, the Embassy of Circular & Biobased Building, the Embassy of Food, and the Embassy of Inclusive Society.

Designer Anouk van der Poll was enthusiastic about WDE's concept. She had been toying with the idea of entering into a structural collaboration with water companies for some time, and Design Embassies were the perfect model for her. For example, in 2018, the Embassy of Water was added to the list of Embassies.

The Embassy of Water looks at all kinds of social issues related to water quality and circularity. The main objective of the embassy is to work towards a sustainable, circular water chain. Before that happens, Anouk is working to change our relationship with water. According to her, it is essential that we become much more aware of our role in the water cycle. And also that we need to look at water differently. How do we ensure that we no longer see water as a product but as a living organism that we must take care of?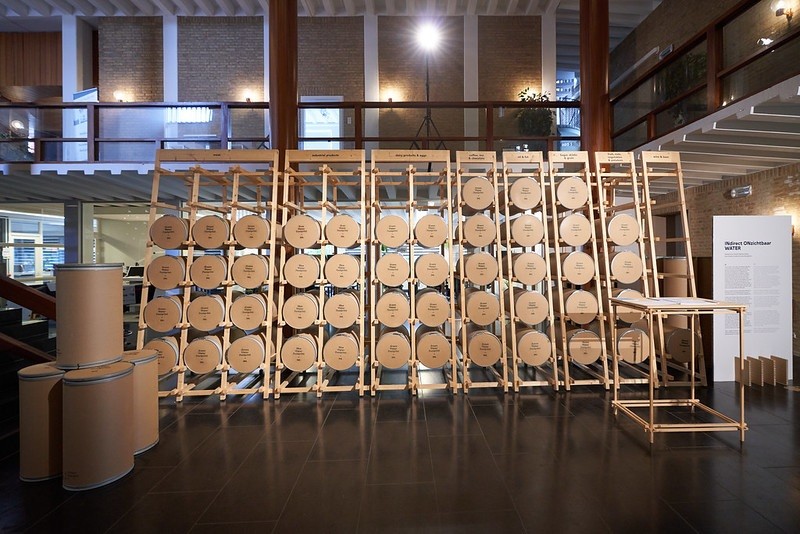 About the process
As founder and curator, Anouk bridges the gap between various clients and designers. She works with several water companies, such as the De Dommel Water Board, Brabant Water, and the Province of North Brabant. Every year she determines a theme with them and looks for designers who can contribute to it. This often leads to several sub-projects in which Anouk plays an advisory and coordinating role. Below we briefly tell you about the start of the Embassy, current projects, and future plans.
The beginning
One thing was beyond dispute for Anouk: the transition can only begin when we no longer take water for granted. That is why she started the project 'The Voice of Water.' This was literally a person who joined consultations with water companies and designers to represent the voice of water. According to Anouk, "water" didn't even need to talk much to be effective. Its mere presence at the table caused those involved to think about water differently. Designer Anne van Strien was so enthusiastic about this concept that she developed it into the podcast series 'Listening to the voice of water.'

In addition, the first years of the embassy were all about creating a blueprint. In it, Anouk and her partners set out how they can convert social water issues into concrete, workable projects.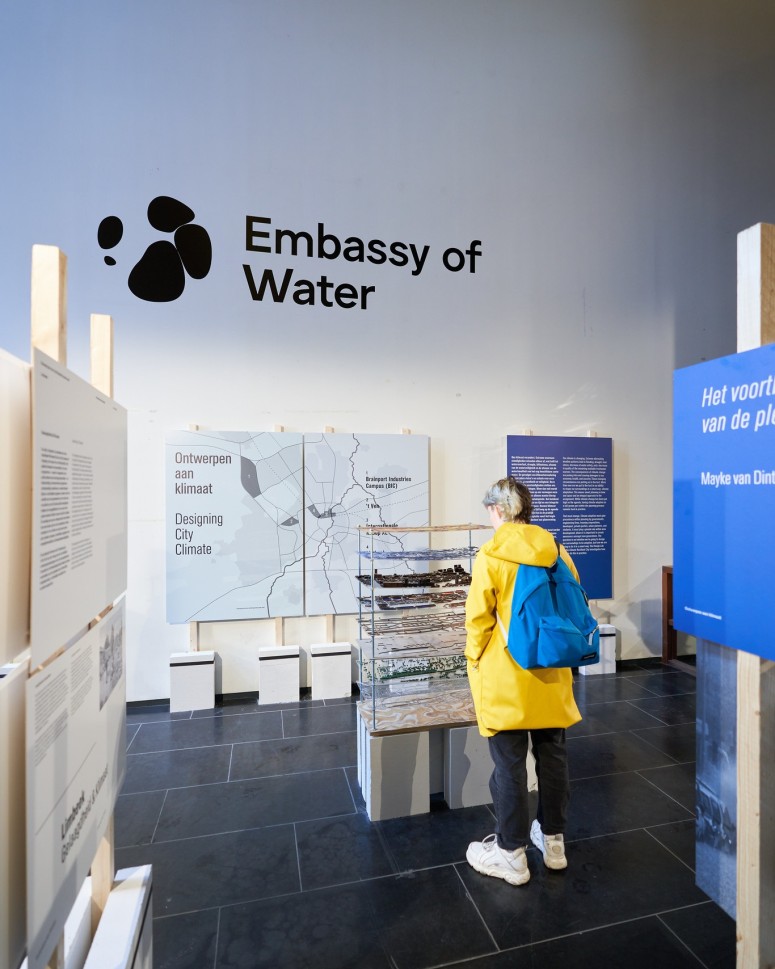 Current projects
In the coming years, the focus of the Embassy of Water will be on 'housing and water.' Homes do not contribute to a balanced water system. A simple example is that we flush toilets with drinking water. That can and must be changed. This challenge is particularly relevant because numerous homes will be built in the coming years. At the beginning of 2022, the Embassy joined forces with various project developers and housing corporations in the region.

The theme of water-neutral construction starts with the question: what would it look like to approach building a house from the water's perspective? And: how can a home have a positive effect on water and its immediate surroundings? The remarkable thing about this challenge is that many solutions already exist to make homes 'water neutral.' They just aren't being used. The Embassy of Water investigates what the stumbling blocks are and uses design power to overcome them. They are starting again at the basics: who are we as humans in the water system? How are we part of that? Then you can start working on a design for a home.
Future plans
During the next three years, the focus will be on residential construction because it plays a major role in the water ecosystem. Of course, residential construction is one link in a larger whole. Water is a full cycle, from water pollution to flooding and everything in between: everything one party does affects the rest. The embassy is therefore working in particular on an integrated approach to water-related problems in which all participants of the water cycle work together.

''''The water transition can only start when we no longer take water for granted''''
Anouk van der Poll | founder and curator of the Embassy of Water
Sub-projects
The Embassy of Water is not a project with a start and an end. It is an ongoing program in which different topics are addressed. That is why, in this case, we also highlight several sub-projects.

Water Animals by Bernhardt Lenger
De Waterdieren is an awareness-raising campaign by Brabant Water and the Embassy of Water. Social designer Bernhard Lenger uses animal metaphors to improve our relationship with water. Treating water as a creature for which we feel empathy gives us a new perspective on water. Here's how it works: people can adopt one (or more) of the eight aquatic animals. Every animal has its own requirements. The water hamster, for example, happily runs around in its wheel to ensure that you have water every day. Do not open the tap too far or too long because your hamster will have to run very hard. When you are considerate of your water hamster, you are much more conscious of what you are asking of our water.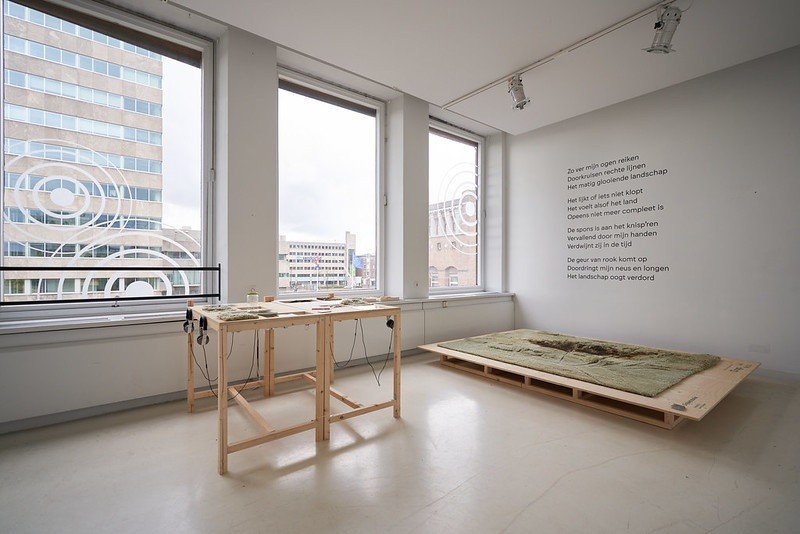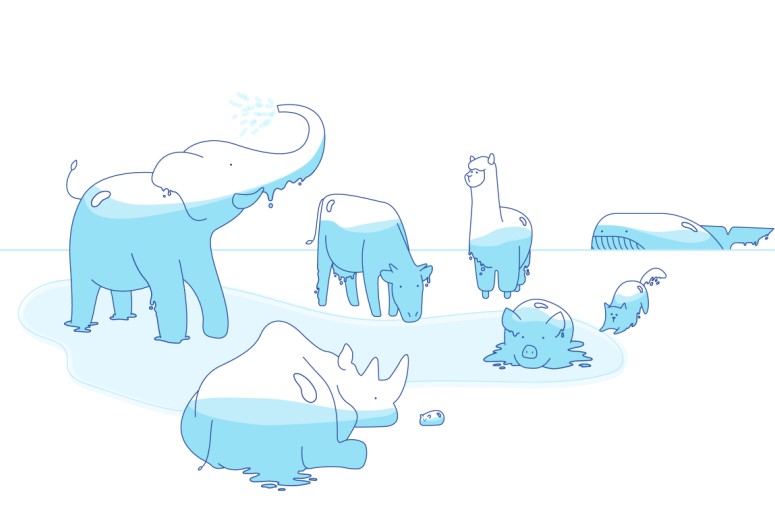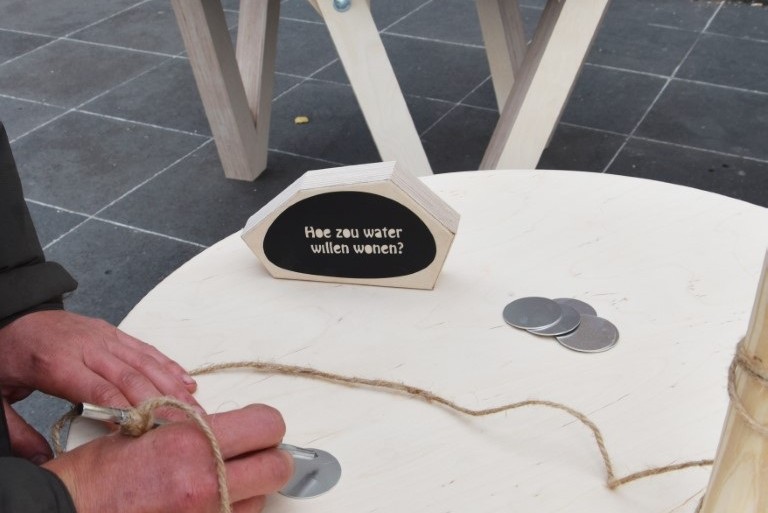 Human well-Wishing well by Fides Lapidaire and Axel Coumans
Another project that improved our ability to listen to water was the Human well-Wishing well by Fides Lapidaire and Axel Coumans. Visitors to Dutch Design Week 2021 could write their 'wish for water' on a coin. Using the question 'What kind of people would water wish for?', the Human well-Wishing Well challenged the visitor to empathize with water. This resulted in surprising wishes, which showed that people are very good at imagining what water needs. There is a realization that people would like to have a healthier connection with water, but they also feel held back by, for example, how their house is arranged.

Dryland by Liselotte Cobelens
Many people associate the Dutch landscape as green and water-rich. That image is endangered by a silent killer: drought. Without realizing it, drought is eating away at our beautiful nature piece by piece. Plants die, wildfires are more likely to occur, and soil subsides due to lowered groundwater. That process is so slow that even people who live near a nature reserve don't notice it. To create awareness for this, designer Liselotte Cobelens developed the Dryland installation. To do this, she processed a large piece of carpet to visualize the effects of water shortages in De Peel. This exhibition was displayed during DDW 2021 in the Designhuis, where the Embassy of Water is located.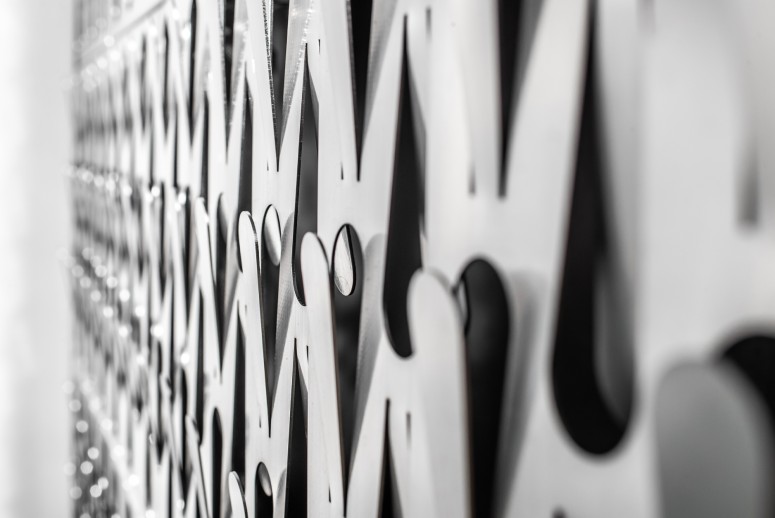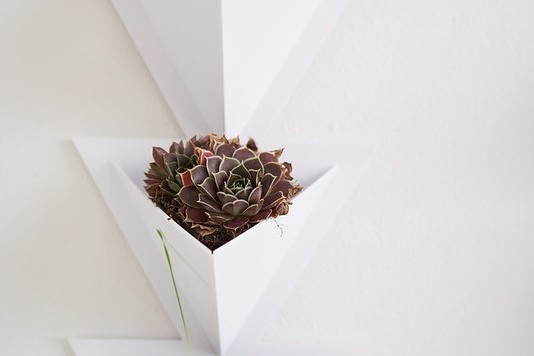 Aquatecture water panels by Shaakira Jassat
Shaakira Jassat designed Aquatecture, vertical panels that collect rainwater and repurpose it for flushing the toilet, for example. Aquatecture is a smart alternative to the old-fashioned rain barrel, which takes up a lot of space and is not suitable for people without a garden. This project was displayed during DDW 2021 at the Embassy of Water and at the Embassy of Circular & Biobased Building.
Smart facade elements for green facades by Eva Broekhuijse
Eva Broekhuijse (Lady Penelope) created facade elements based on the unique shape of succulents. The way their leaves overlap each other helps them shade themselves and keep cool. This form of biomimicry design (design based on properties found in nature) led to special facade panels for plants. A convenient and, above all, beautiful way to ensure more green facades.
Water-neutral construction
New and existing homes are moving away from gas en masse. Anouk and her team are exploring various methods of getting homes 'off the sewer'. An example of a project where this is already happening is a construction project with 28 houses in Silvolde in Enschede, where they build water-neutral and sewer-free thanks to SEMiLLA Sanitation, a system from Peter Scheer. Promising projects can also be found closer to home. In the Brainport Smart District, a new neighborhood in Helmond, water is used in a very conscious manner, partly thanks to insights from the Embassy.
Meer weten?
De frisse blik van een ontwerper zorgt voor verrassende oplossingen voor de meest uiteenlopende uitdagingen. Wil je meer weten over de mogelijkheden van ontwerpkracht voor jouw project?
Neem contact met ons op!