PHOOD farm & restaurant
Innovative food concept setting the tone for De Caai Eindhoven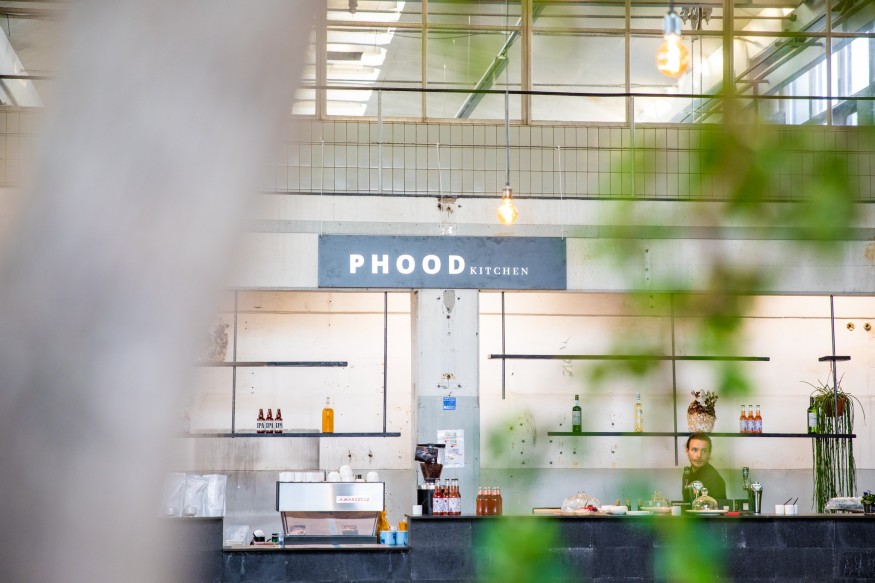 How can we grow food sustainably in the middle of the city?
Farming, but right in the city center. And not in the open soil but on water. Since the start of 2020, you can find PHOOD farm and restaurant at De Caai, the former Campina factory grounds. PHOOD is a pioneering placemaker in the area, which is still rapidly developing. From here, they are creating a new food culture based on their self-grown produce. Not so much designers in the conventional sense of the word, but two young creators whose vision for the future questions our relationship with food and provides us with new solutions.

The foundation for PHOOD's cultivation is aquaponic farming. Plants hang above large containers of water, with the roots growing into the containers. Fish swim in these containers, providing fertilization for the plants. In turn, the plants purify the water. An interaction that provides fresh produce. For PHOOD, it provides herbs and leaf vegetables such as crisp lettuce. Because of the way they are grown, the vegetables are much richer in vitamins than pre-packaged vegetables from the supermarket. Besides, aquaponic farming may well be the future of growing vegetables in the city because arable land is scarce.
About the initiators: Tim Elfring and Sabine Feron
Making pure and nutritious food the new standard: Tim and Sabine's vision is crystal clear. Instead of food as a substance for filling the stomach, they see it as an opportunity to allow the body to recover and provide us with new energy. Just as food – and especially food from restaurants – was intended in the first place.
As far as they are concerned, 'pure' eating involves a transparent food chain. In the restaurant, they either grow all the ingredients themselves, with as little environmental impact as possible, or buy locally. On PHOOD's menu, you'll find food without bells or whistles: pure soups that will give your gut a boost or make your skin glow, salads from the aquaponic farm, and healthy, homemade kombucha and invigorating teas.

Learn more at phoodfarm.org and phoodkitchen.com.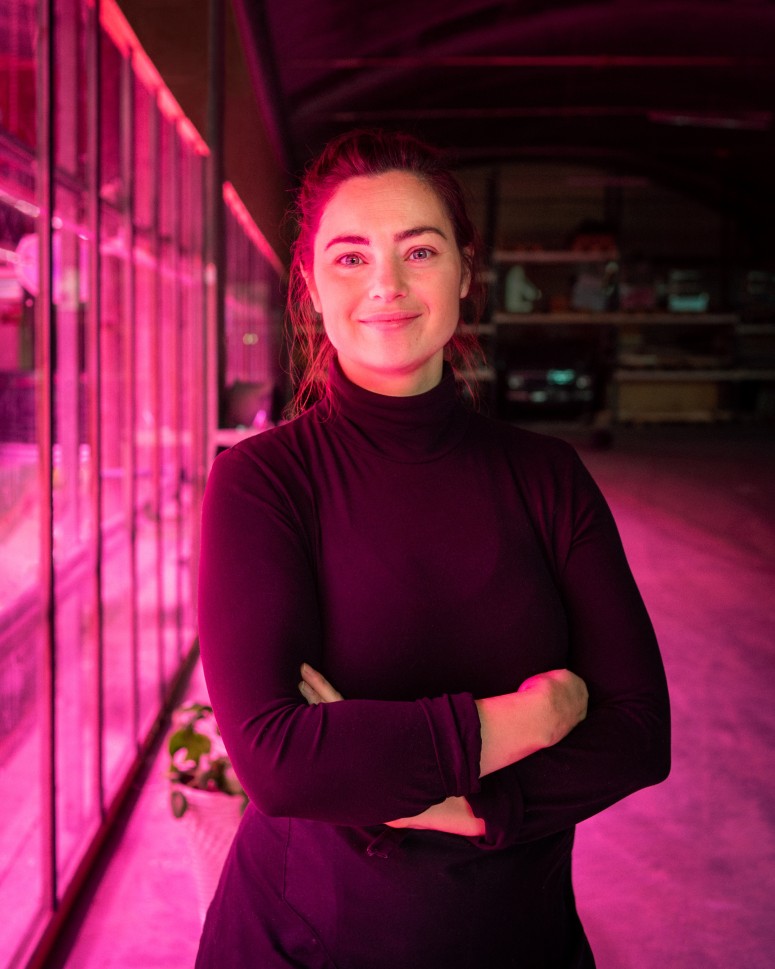 Sabine Feron
The incentive
From studies in business and marketing to running an aquaponic farm and restaurant: they seem worlds apart. Yet it was clear to Tim Elfring and Sabine Feron, founders of PHOOD, that this was to be their future. The source of inspiration was their schooling in Tai-chi. The two already had good qualifications under their belt, but somehow a question remained: what do we want to do with our lives now? That wonderful education, however, did not fit them like a glove.

After their Tai-chi training in England, it was time for a change. And they already had an interest in healthy eating. Sabine worked in a kitchen as a chef in addition to her studies, and Tim regularly followed diets to re-energize his body.

If you want pure and nutritious food, you cannot eat at most conventional restaurants. And if it doesn't yet exist, we'll make it ourselves. PHOOD was born out of that vision. And the ambitions remain high: they want to make high-quality, nutritious, and pure food the new normal. Starting in Eindhoven and expanding to the rest of the country.
''De Caai strengthens PHOOD and PHOOD strengthens De Caai, partly because local residents can participate themselves.''
Sabine Feron | PHOOD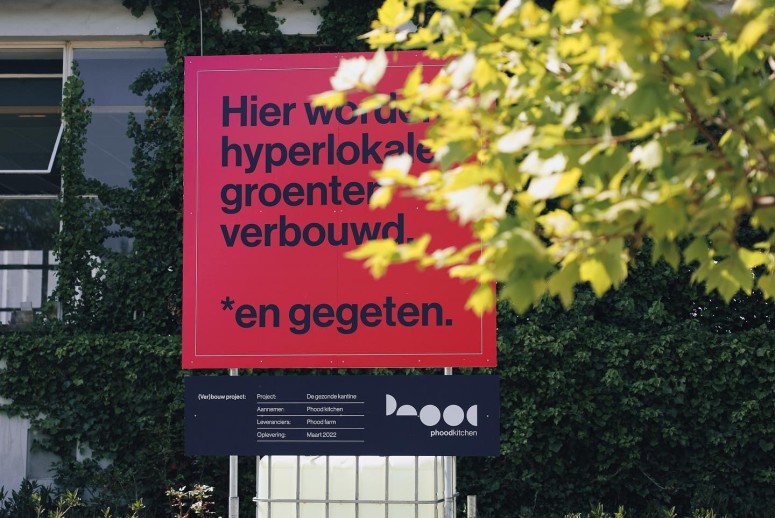 About the process
The idea
Establishing a new food culture is not something you do overnight. What are you selling? How do you engage with the public? PHOOD started out on wheels as a food truck. There, Sabine and Tim sold healthy, pure food. Exactly how they envisioned it. They put creations on the menu that perfectly supported their vision, which was something completely different from the existing hospitality industry.

With the food truck, they attended several locations, including a pure food festival and the Hightech Campus in Eindhoven. The food truck was not simply a converted bus but a genuine botanical greenhouse on wheels. That caught the eye, and the entrepreneurs instantly attracted attention. And that was important: the story behind their food needed to be told.

The story of healthy and pure eating landed more slowly than expected. People thought it was too healthy or were afraid that the food would be flavorless. Apart from internationals and a group of employees who stopped by the food truck at Hightech Campus time and again, PHOOD's vision did not initially land as well as hoped.
''We want to lower that barrier, so that good and healthy food becomes affordable and appealing to everyone.''
Tim Elfring | PHOOD
The plan
What's next? Sabine and Tim met entrepreneur Jos Hakkenes of the Duurzame Kost Foundation. He ran an aquaponics farm from 't Veem at Strijp-S. They collaborated with him back when they were still driving around in their food truck. The interesting thing about aquaponics, the two agreed, is that in the city, where there is little arable land, you can still easily grow a lot of vegetables. Aquaponic vegetables also happen to be extra nutritious. When Tim and Sabine were able to take over Jos' aquaponics farm, they hatched a plan. There needed to be a place where they could both grow vegetables and serve them. Using their contacts, they ended up at the former Campina factory grounds, now De Caai. There was an immediate connection with urban developer BPD Bouwfonds Gebiedsontwikkeling. Even though the area was still under development, BPD Bouwfonds Gebiedsontwikkeling was looking for partners who could give De Caai the boost that the developer had in mind. BPD Bouwfonds Gebiedsontwikkeling wants to build a community where people live, work, create and recreate, especially with room for innovations in food and health.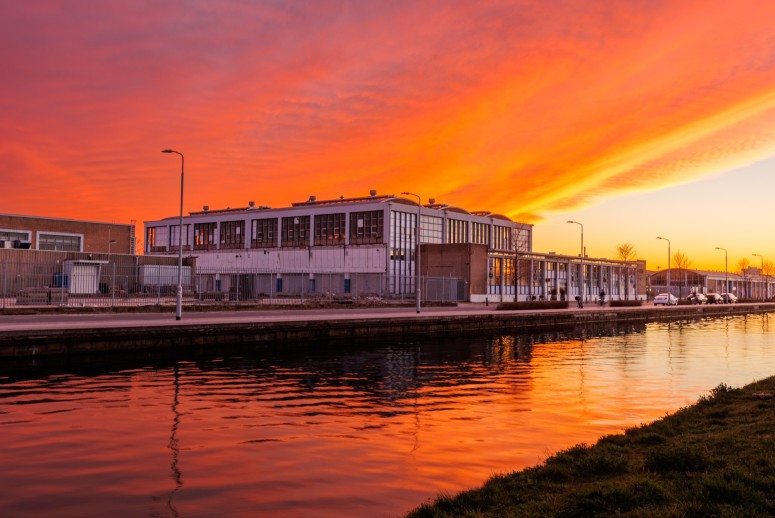 The execution

In the meantime, PHOOD farm and restaurant helped shape the identity of the new De Caai area. Not only because of their innovative method of growing and serving (PHOOD is the world's first aquaponic restaurant) but also because they actively involve the community around the former Campina factory in their venture. In fact, the aquaponic farm is partly run by local residents. In exchange for their contribution, they receive a monthly 50 percent discount on produce for their own use.

The fact that gardening has a healing effect is not a benefit PHOOD's founders leave untapped. People with a distance from the labor market (due to burnout or autism, for example) also work on the farm. In addition, the entrepreneurs are growing oyster mushrooms on coffee grounds from downtown establishments, there is an indoor farm around the aquaponic farm that farms on soil, and there is a small-scale permaculture farm in an adjacent neighborhood, which also involves local residents. They use the vegetables and herbs produced by PHOOD in their own restaurant. They also sell to other restaurants and organic stores. All in all, PHOOD, together with local residents, entrepreneurs, and BPD Bouwfonds Gebiedsontwikkeling, is making sure that De Caai is already coming to life. All the while, the first residents have yet to settle in the area.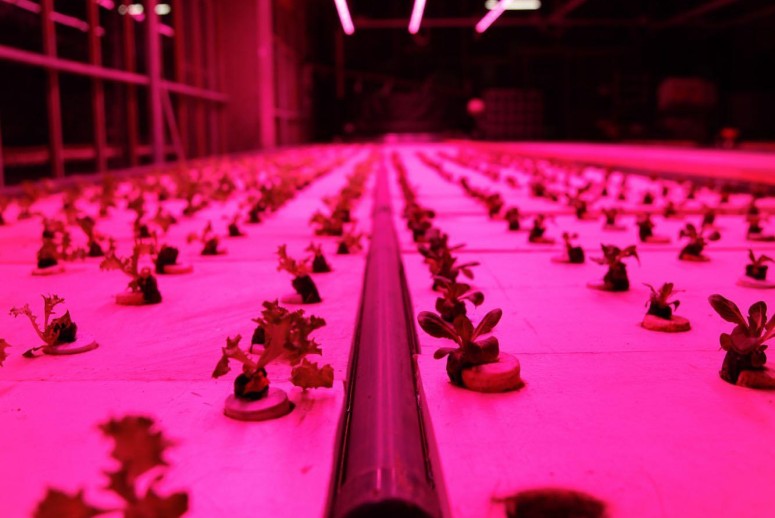 Meer weten?
De frisse blik van een ontwerper zorgt voor verrassende oplossingen voor de meest uiteenlopende uitdagingen. Wil je meer weten over de mogelijkheden van ontwerpkracht voor jouw project?
Neem contact met ons op!