Arabidopsis Symphony
Dive into the inner life of plants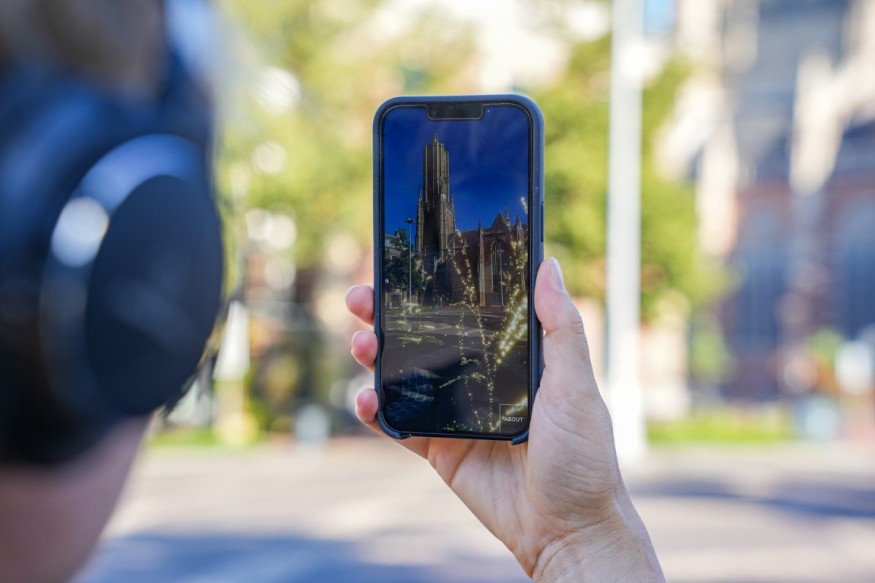 Fillip Studios' AR installation transforms the Wilhelminaplein in the heart of Eindhoven into a jungle of plants. Virtually, that is. A pillar on the square invites visitors to take their phones out of their pockets and scan the QR code. Plants appear on the square, which you can walk through. As you get closer to a particular plant, you will hear the tones and melody associated with this plant louder. Walk away and approach another plant, and you will hear a completely different sound.
The sounds in Arabidopsis Symphony are based on actual data about physiological processes in the Arabidopsis Thaliana, or Sand Rocket. Think of changes in genes, hormones, and growth. The data comes from Wageningen University, which does a lot of research on this little plant. Every symphony is unique: if you listen in the morning, you hear something different than in the evening. Is it raining, or is it sunny? That also affects the music. Because, just like a real plant, the AR installation responds to external factors.
''Unbeknownst to us, a lot is happening in a simple plant. People and plants are not all that different from one another.''
Roos Meerman | Fillip Studios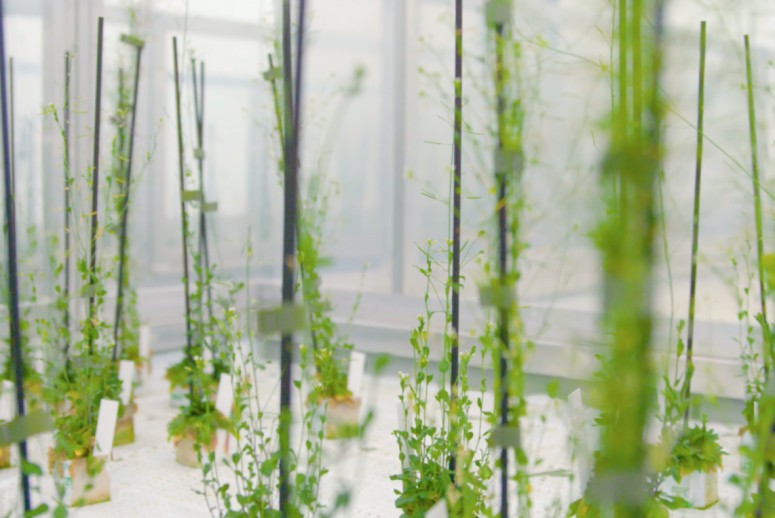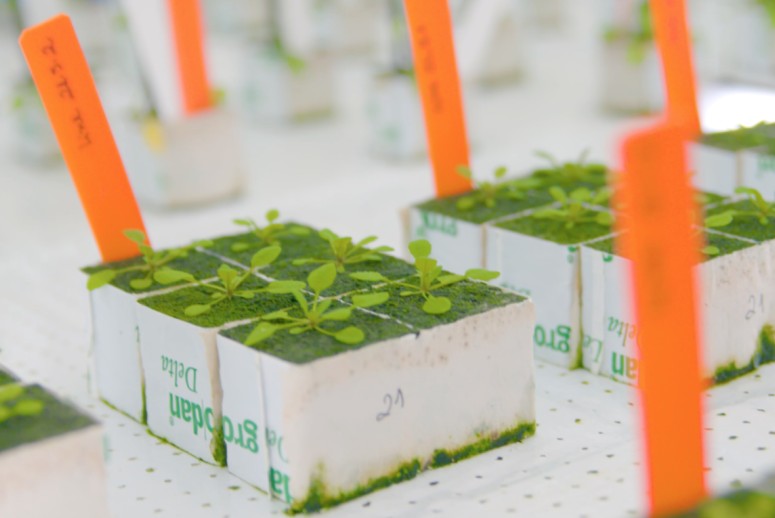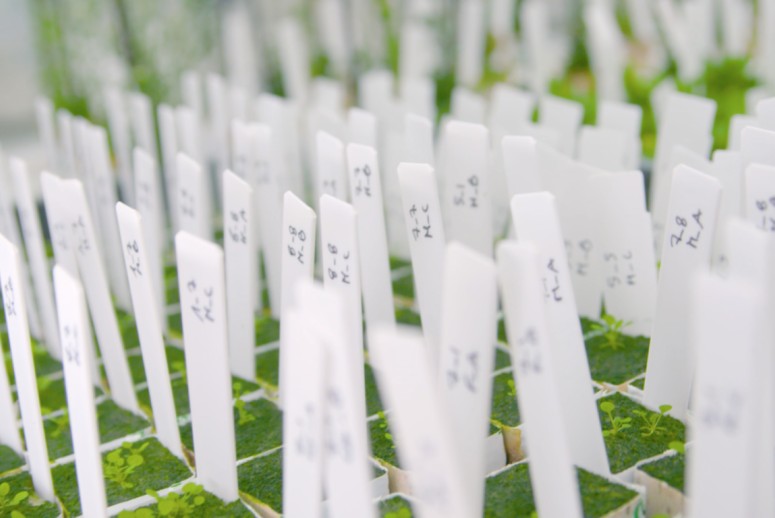 About Fillip Studios
Together, Roos Meerman and Tom Kortbeek are Fillip Studios. Through their art and design, they seek to make an impact through wonder. Arabidopsis Symphony is a prime example of this. As people listen to plants through a musical rendering, they may also begin to look differently at the (green) world around them.

While Roos has a product design background, Tom's is in theater and music. As such, Fillip Studios' projects are often at the intersection of these influences. Also in 2020, Fillip Studios founded Pi Lab, a collaboration between parties such as Technical University of Eindhoven, Delft University of Technology, and BASF Forward AM. The lab's objective is to create an exchange between art & design and science & technology. A scientific discovery can lead to a unique piece of art; however, it can also work the other way around, i.e., an artistic experiment can give rise to scientific/technical research, thereby providing an innovative solution in health care, for example.

For more information, visit fillipstudios.com.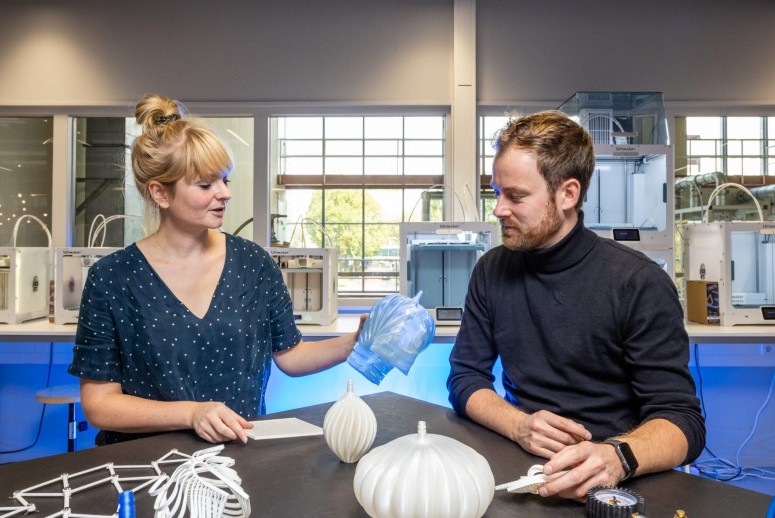 The incentive
The idea for Arabidopsis Symphony initially came about in 2017 in response to the following question: how can we enhance the interaction between people and their green surroundings through art? With Arabidopsis Symphony, Fillip Studios uses music to allow the visitor/user to experience the vibrant life of a plant. The wonder that arises changes your perspective on plant life. You may already know this if you read up on complex plant life; however, you only begin to understand it through experience.

A similar idea came into being in Wageningen. Plant physiologist Sander van der Krol was looking for a way of sharing his plant knowledge with a wider public than just scientists. Sander mainly specializes in plant genes and hormones. He especially knows a great deal about Arabidopsis Thaliana. Its specific characteristics (it grows fast and has a short life cycle) mean this little plant is particularly useful for scientific research. Sander primarily works with long Excel sheets packed with data. But his eyes begin to light up when he sees these numbers. He sees the world hidden behind this data. And it was his idea that more people should experience this feeling.

Sander van der Krol and Fillip Studios first came into contact through the Bio Art & Design award. Together, they have developed a way of converting plant data into music. They also conducted experiments with their initial findings on the Wageningen University campus.

The objective was to eventually compose a piece of music for a symphony orchestra inspired by plant data and to tour the world with it. The COVID-19 pandemic, however, threw a spanner in the works. Co-produced by Dutch Design Foundation, Fillip Studios have developed a new idea for an AR installation that will remain in Eindhoven for an extended period starting during Dutch Design Week and then travel around the world.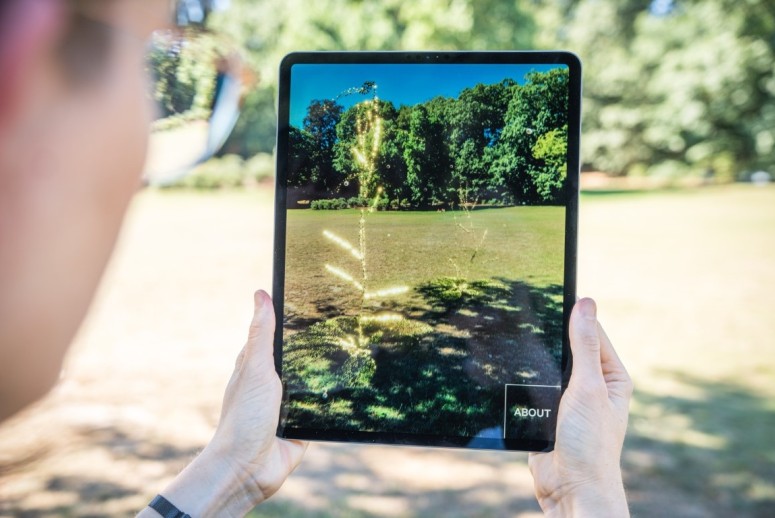 About the process
The idea
How do you translate the physiological processes of a little plant into music? By juxtaposing physiology and music, Tom Kortbeek and scientist Sander van der Krol soon discovered an overlap between the two areas. The clock gene, for example, allows a plant to "know" when it is day or night. This creates a pulsating phenomenon, similar to the rhythm in a musical composition. And so they arrived at many more similarities, which Tom has translated into sounds.

Fillip Studios developed a kind of DJ table to test their findings with an audience. An enormous mixing console with slider controls, with names like 'Rosette,' 'HY5,' or 'TOC1': all names of the corresponding genes and hormones. Wageningen University students, staff, and visitors composed their songs with the mixing console (video on YouTube). The responses were positive, with the story appealing to people and making plant science much more accessible. Drawing on the same musical components, Fillip Studios created a piece of music for a string orchestra, which served as the opening of the InScience, International Science Film Festival Nijmegen. A piece of music for a symphony orchestra was added later on. With COVID-19 preventing Arabidopsis Symphony from touring worldwide, Fillip Studios decided to join forces with Dutch Design Foundation.
The plan
Like scientist Sander van der Krol, Fillip Studios wants to bring the musical story of Arabidopsis Thaliana to the broader public's attention. Public spaces are best suited for this purpose. Passers-by can then spontaneously bump into a piece of work. In this way, the plan came about to create an installation for Wilhelminaplein, a fairly drab square in downtown Eindhoven. Eindhoven will be increasingly greening-up throughout the next couple of years, and Arabidopsis Symphony is in tune with this vision. In the designers' opinion, the artwork causes people to look at their green surroundings differently.

Eindhoven Design District is funding part of the plan, with various cultural funds coming on board to cover the remainder. Arabidopsis Symphony will go on its travels after Eindhoven; festivals, too, will frequently pay to host the installation. Wageningen University is also an Arabidopsis Symphony partner, mainly investing its knowledge and time.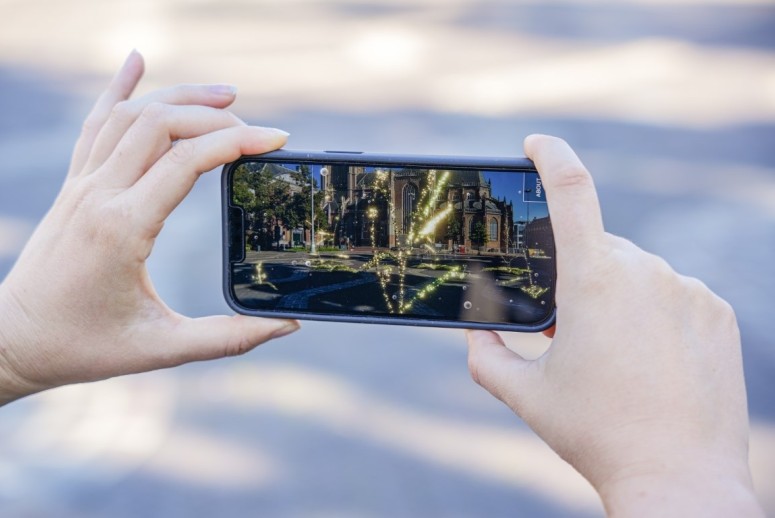 Implementation

Starting during Dutch Design Week 2022, a human-sized column will be in place in Eindhoven's Wilhelminaplein. The plan is for passers-by to become curious and approach the installation. On it is a QR code. People will scan the code with their phones, and a whole new world will appear in front of them. A forest of plants can be seen on the square, with music playing. The closer you come to a plant, the louder the music. The sounds you hear will change as you walk on. The physiological processes of the plants around you will now become literally audible.
The AR app, developed by Superposition, allows people to walk through their very own piece of music. The path you walk determines the music you hear. Weather conditions and time of day will also influence what you hear. Every day is different, with each piece of music unique. This data will be collected at night from the local weather forecast for the coming day. This means a plant will respond to rain, sun, or darkness. You can also zoom in on plant life and musical details. The installation will remain in Eindhoven for several months following the conclusion of Dutch Design Week. Besides that, Arabidopsis Symphony is still traveling around the world - to locations such as Vienna, Barcelona, San Diego, Atlanta, and Anchorage.
Meer weten?
De frisse blik van een ontwerper zorgt voor verrassende oplossingen voor de meest uiteenlopende uitdagingen. Wil je meer weten over de mogelijkheden van ontwerpkracht voor jouw project?
Neem contact met ons op!